My Favorite Granola Bars.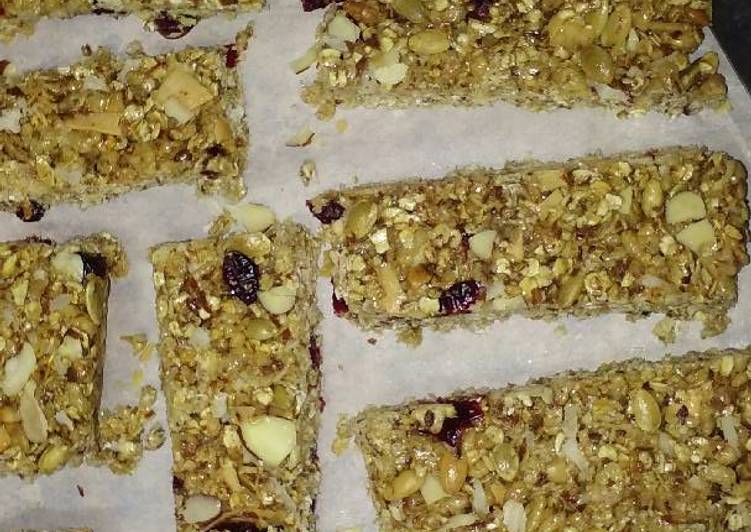 You can have My Favorite Granola Bars using 11 ingredients and 8 steps. Here is how you cook that.
Ingredients of My Favorite Granola Bars
You need 1 1/2 cups of quick oats.
You need 1 cup of crisp rice cereal.
Prepare 1/4 cup of ground flaxseed.
You need 1/4 cup of unsalted butter.
You need 1/4 cup of honey.
You need 1/4 cup of brown sugar.
Prepare pinch of salt.
You need 1/4 cup of pepitas (also known as pumpkin seeds).
You need 1/4 cup of almonds, roughly chopped (could also used sliced).
Prepare 1/4 cup of craisins (or raisins or other dried fruit).
You need 1/4 cup of shredded coconut (could also use coconut chips or a mix).
My Favorite Granola Bars step by step
Optional first step : lay out the oats on a baking tray and bake at 350°F for 10 or so minutes, until everything is toasted and golden. Keep a close eye on them though, as the oats can burn quickly. Toasting the oats beforehand just adds a nice flavor to the finished bars, but this step isn't necessary..
Line a 8×8"or a 9×9" pan with parchment paper, leaving an overhang on the sides to easily lift the finished bars out and set aside..
Toss the oats, rice cereal and ground flaxseed together in a large bowl. Set aside..
In a medium saucepan, start heating your butter over medium heat. Once it begins to melt, whisk in the brown sugar, honey and pinch of salt. This will form a kind of sticky caramel sauce, which will be the glue that holds the bars together. Let this come to simmer, then remove from heat..
Pour the sauce over the ingredients in the bowl and use a rubber spatula to mix it all in. Make sure everything is fully saturated. Then fold in the rest of the ingredients. If using chocolate chips as one of your ingredients, barely fold them in after everything else is fully mixed, that way they won't melt from the initial heat of the sauce..
Pour this mix into the prepared baking pan and use either a spatula or another pan or your hands to press down on the granola mixture very firmly. Whatever you're using to press down the granola, spray it first with non-stick cooking spray. Its important to really pack it down hard or you'll end up with crumbly granola chunks instead of bars..
Place the pan into the fridge for at least 2 hours. Then, remove the granola from the pan using the parchment paper. Use a large, sharp knife to cut it into bars (or squares)..
That's it! For grab and go convenience, you can individually wrap these using parchment paper and string or you can wrap them in plastic wrap. Store them for up to 1 week. They're a bit hard and crunchy straight out of the fridge, so I'd recommend letting them sit out at room temperature for a few minutes before eating..