Sweet potato gnocchi w/ garlic and sage sauce & coriander pesto. Sweet Potato Gnocchi is about to happen in your life. There were platters upon platters of that pillowy potato gnocchi, and simmering pots of tangy bolognese and creamy marsala mushroom and zippy pesto sauces that still live right at the surface of our food dreams. Sweet Potato Gnocchi With Garlic Tomato SauceSavory Tooth.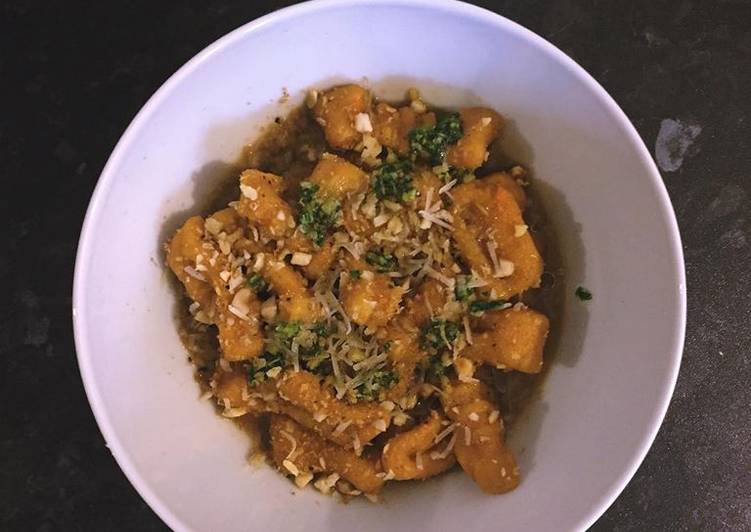 Add sweet potato to Varoma tray I've frozen the leftover uncooked gnocchi, and plan to have it with a burnt butter sage and walnut sauce. Thanks for the recipe Krissy – it's a keeper! Sweet Potato Gnocchi. featured in Vegetarian Meals For The Day. You can have Sweet potato gnocchi w/ garlic and sage sauce & coriander pesto using 17 ingredients and 12 steps. Here is how you cook that.
Ingredients of Sweet potato gnocchi w/ garlic and sage sauce & coriander pesto
It's 2 of Sweet Potatoes.
You need 1/4 cup of Parmesan cheese (additional 1 tbsp for sprinkling).
Prepare 1 1/4 cup of flour.
Prepare 2 of egg yolks.
It's Pinch of nutmeg.
It's of Jug of water.
It's 1 tbsp of butter.
Prepare 1/2 of Chicken stock (vegetable stock can be used if you're vegetarian).
You need 4 of Sage leaves.
You need Bunch of Coriander.
You need 20 g of Pine nuts.
Prepare 3 of Garlic cloves.
You need 20 g of Breadcrumbs.
Prepare 10 g of Hazelnuts.
You need to taste of Salt.
It's for seasoning of Pepper.
You need of Olive Oil.
Gnocchi are something you probably order all the time at restaurants but never think about making from scratch. Then, the gnocchi get tossed in a simple sauce of butter and sage until just golden. This Sweet Potato Gnocchi recipe is an autumn-inspired take on gnocchi. Fluffy, tender, and melt in your mouth with a buttery sage and rosemary sauce.
Sweet potato gnocchi w/ garlic and sage sauce & coriander pesto instructions
Turn your oven on preheat for 200°C. Wash and stab the sweet potatoes with fork or knife..
Place the potatoes on hot oven tray and let it cook for 20-25 mins (turning at 10-12 mins)..
Once the potatoes are cooked, de-skin them and mash them until they are very fine (I usually press them through sieve for the best texture)..
Add parmesan, egg yolk, nutmeg and pinch of salt. Mix these together. Add your flour in intervals while you continue mashing and turning it into a dough (add water in intervals). The dough should be soft..
Once your dough is done set it aside while you get the sauce ready..
In a small saucepan, add butter and chopped garlic along with your chicken stock. Add around a cup of water and sage leaves. Let this simmer on low heat until it goes half in quantity and is of a thick liquid consistency. (DON'T ADD SALT AS THERE IS ENOUGH SALT IN THE STOCK CUBE ITSELF)..
In a blender, add coriander bunch, 2 cloves of garlic, pine nuts and a pinch of salt. Add olive oil in intervals. Blend it all together..
In a small separate pan, use some of the oil that comes off from the coriander pesto and add the breadcrumbs to the pan. Cook these till crispy..
Back to the dough… divide your dough in 4 (cling film and keep 3 parts in the fridge for another use and use 1 for gnocchi)..
Dust your kitchen top with flour. Roll the dough in long flat shape and form in into a 2 cm tube. Once done, cut at every 2 cm to get the gnocchis. Shape them with a fork upside down press the gnocchi against the fork end..
Cook the gnocchis in boiling water. You'll know they're cooked as they start rising to the top..
Serve the gnocchi in a bowl, add the garlic and sage sauce and garnish it with crushed hazelnut, coriander pesto and parmesan..
Saute: Melt butter in a large saucepan over medium heat, then add garlic, sage, rosemary, and gnocchi. Cook until gnocchi is lightly browned. Fun to make with friends, these tender gnocchi shine in a sage-infused shallot and wine sauce. All Reviews for Sweet Potato Gnocchi with Sage Cream Sauce. Gnocchi: Boil a large pot of salted water.