Red Greens? South Indian Style Dal-Saag.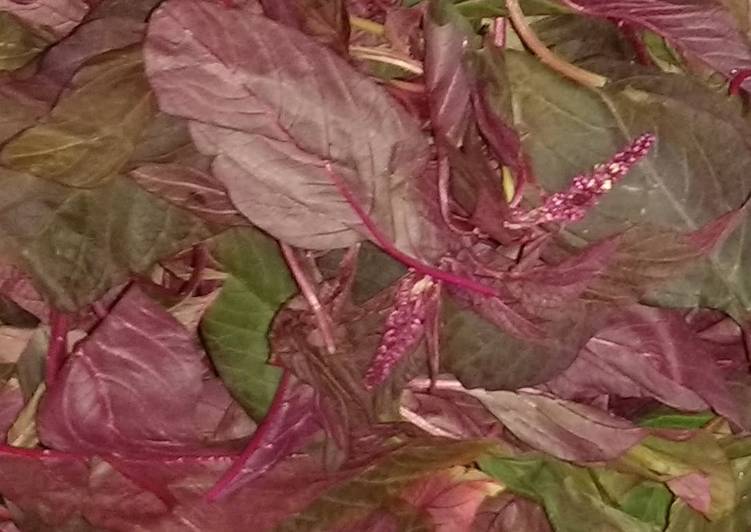 You can have Red Greens? South Indian Style Dal-Saag using 15 ingredients and 18 steps. Here is how you cook it.
Ingredients of Red Greens? South Indian Style Dal-Saag
Prepare 3 cups of amaranth red , washed, chopped finely (See Notes).
Prepare 1 cup of dal arhar (I prefer to use split and peeled mung and you can even use red masur).
You need 2 of onions , medium sized, peeled and thinly sliced.
You need 1 of tomato lime tamarind , large, finely chopped or a small sized ball of – see Notes.
It's 6 cloves of garlic finely chopped (I don't!) or less or none.
You need 1 of ginger small piece chopped or julienned or ground peeled.
It's 1 teaspoon of salt.
It's 1 tablespoon of peanut oil.
It's 1 teaspoon of mustard seeds.
You need Half teaspoon of cumin seeds.
Prepare pinch of fenugreek seeds.
You need pinch of asafoetida.
Prepare 2 of chillies dried red.
Prepare half teaspoon of haldi.
It's half teaspoon of chili powder red.
Red Greens? South Indian Style Dal-Saag instructions
Wash and pressure cook the dal with one to one and a half cups of water till soft. See Notes..
Wash the greens well. I soak them in water and drain thrice over. And you should too if you've not bought pre-cleaned and lahdidah ones..
Pluck the leaves off the stalk and chop the greens finely. Some folks use the stalks but it might make the dish too fibrous. If you do decide to do so, use tender stalks and use only if your greens are super fresh..
Soak the tamarind now, if that's what you want to use instead of tomatoes..
Peel and slice the onions..
Peel and chop or grind the ginger and garlic..
Finely chop the tomato..
Check the dal. If it's well cooked, add the chopped greens..
Heat the oil in a frying pan. When hot, add the mustard seeds and lower the fire. At this point you have to move fast from one step to the other lest these spices burn..
When they start to crackle add the red chillies, broken into two or three pieces..
Add a pinch of fenugreek seeds and a pinch of asafetida..
Do not let anything burn! Add the onions and fry well. It's up to you to brown or merely glaze them..
Add the chopped tomato and cook well, stirring frequently..
Add the haldi and chilli powders. Stir well..
Toss this onto the dal and greens..
Add salt to taste..
Serve with hot steamed rice and a dash of ghee. Any South Indian pickle, some poppadoms and some dahi would make this a yummy South Indian lunch or dinner..
Suggested side dishes: any dry vegetable curry can do fine but, perhaps, some dry root vegetable preparation would work best..