Butter Chickpea Curry.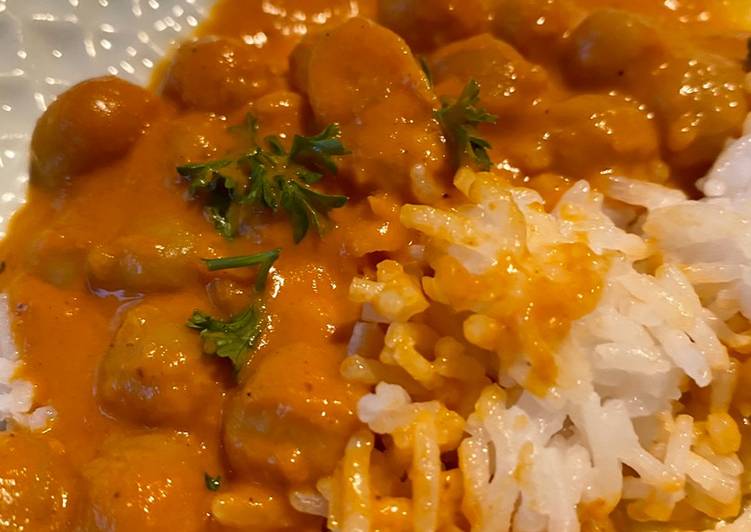 You can have Butter Chickpea Curry using 17 ingredients and 7 steps. Here is how you cook it.
Ingredients of Butter Chickpea Curry
Prepare 4 tablespoons of butter, divided.
Prepare 1 of large onion, finely chopped.
It's 3 cloves of garlic, minced or presses.
Prepare 1 tablespoon of freshly grated ginger.
You need 2 tablespoons of garam masala powder (a little less if you use the paste).
Prepare 2 teaspoons of mild curry powder.
It's 1 teaspoon of turmeric.
Prepare 1 teaspoon of cayenne pepper (adjust to taste).
Prepare 1/4 teaspoon of ground cumin.
Prepare 1/4 teaspoon of salt.
It's 170 g of tomato paste.
You need 1 can (400 g) of diced tomatoes.
It's 1 can (400 g) of full fat coconut milk.
Prepare 3 cans (440 g) of chickpeas, drained and rinsed.
It's 1 tablespoon of cornstarch.
It's 4 tablespoons of heavy cream.
It's of Chopped cilantro or parsley as garnish.
Butter Chickpea Curry step by step
Melt 2 tablespoons of butter in a large saucepan over medium-high heat. Add onions, a pinch of salt and sauté for about 5 minutes, until translucent, stirring once in a while..
Add garlic and sauté for 1 minute, until fragrant. Add ginger and all the spices and sauté for 30 seconds, until fragrant. Add tomato paste and give a good stir..
Add the can of diced tomatoes, fill the can 3/4 full with water and add to the pan..
Bring to a low simmer, cover and cook for 10 minutes, stirring every now and then. Remove from the heat, add coconut milk. Transfer to a pot and purée with an immersion blender until smooth and creamy..
Return the pot to heat, add chickpeas and give a good stir. Cover and gently simmer for about 20-25 minutes, stirring every now and then..
In a small bowl whisk cornstarch and (cold) heavy cream. (If the cornstarch doesn't dissolve well, add a tiny bit of cold water). Add the slurry and the remaining 2 tablespoons of butter and simmer for further 5 minutes stirring carefully, until the sauce starts to thicken..
Take a taste and adjust seasoning as needed. Sprinkle with chopped fresh cilantro or parsley and serve with rice and/or boiled potatoes..