Chicken Tortilla Soup.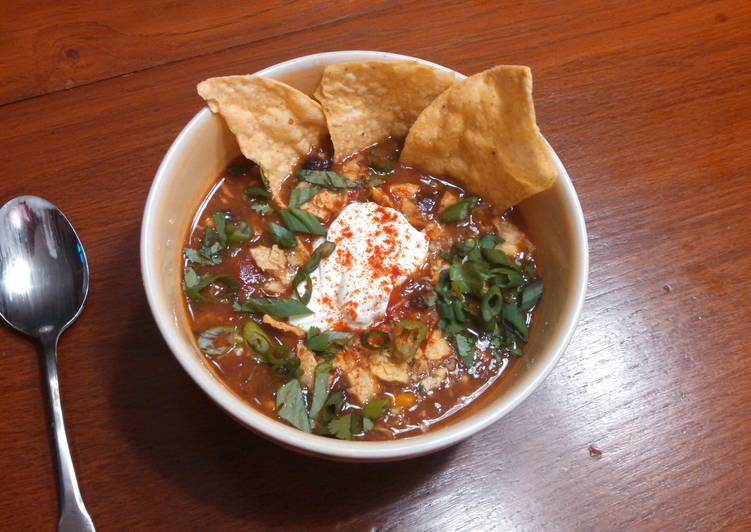 You can cook Chicken Tortilla Soup using 17 ingredients and 5 steps. Here is how you achieve it.
Ingredients of Chicken Tortilla Soup
It's 2 of Split, bone-in, skin on chicken breast.
Prepare 1 of 49.5 oz can of chicken broth.
You need 1 medium of white onion, diced.
You need 1 of poblano pepper, diced.
It's 2 clove of Garlic, minced.
Prepare 6 of scallions (green tops and white bottoms separated).
It's 1 of 28 oz can diced tomatoes (undrained).
Prepare 1 of 14.5 oz can of refried beans.
Prepare 1 of 14.5 oz can of low-sodium black beans (undrained).
It's 1 cup of Vodka.
It's 1 tbsp of Mexican oregano.
It's 2 tsp of Cumin seeds.
Prepare 1 tsp of Dried cilantro.
It's 3 of Bay leaves.
You need 1 bunch of fresh cilantro.
It's 1 of Kosher Salt.
You need 1 of Fresh-ground pepper.
Chicken Tortilla Soup instructions
Heat a Dutch oven or another large, heavy pot on the stove on medium-high heat. Season chicken breasts liberally with Kosher salt. Place chicken breasts skin side down in Dutch oven. Brown and render as much fat out of the skin as possible. When skin is golden brown, remove chicken to a second pot..
Reduce heat on Dutch oven to medium. Add cumin seeds to Dutch oven chicken fat and toast for one minute. Sauté diced white onion and diced white part of onion from the scallions in the chicken fat for 3-5 minutes. Add diced poblano and minced garlic and Sauté for another 3-5 minutes. Add Mexican oregano and dried cilantro..
In the second pot, pour the broth over the chicken breasts. Cover with a lid and bring to a simmer. Cook chicken all the way through. Remove chicken from broth and allow to cool until it is able to be pulled from the bones and shredded. Discard bones. Reserve chicken and broth..
Add canned tomatoes (undrained) to vegetable mixture. Immediately stir in vodka. Bring to a simmer. Stir in refried beans and black beans (undrained). Add bay leaves..
Add reserved chicken broth to vegetable mixture. Bring to a boil and reduce to a simmer. Add the corn. Simmer for 20-30 minutes. At this point, soup is ready to serve BUT it can simmer for a few more hours for a thicker broth. Five minutes before service, stir in diced fresh cilantro (as little or as much as you prefer). Garnish with sour cream, green onion tops from scallions, tortilla chips, guacamole or any other traditional Tex-Mex garnish. Enjoy!.