Salsa chicken enchiladas my way. These green chicken enchiladas are so simple to make. With salsa verde, chicken, sour cream, cheese, and cilantro, they are a tasty, quick, and easy dinner. Jump to the Chicken Enchiladas Recipe or watch our quick video below to see how we make it.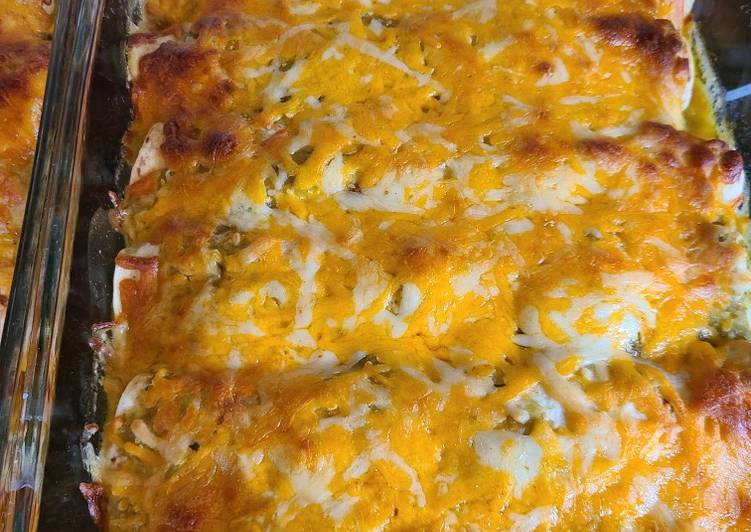 We combined green salsa, green chiles and limes to kick up the flavor of these simple chicken enchiladas. Cut your tortillas in half, and place one layer into the bottom of the pan. Top with some of the enchilada sauce, then a layer of chicken and a layer of. You can cook Salsa chicken enchiladas my way using 14 ingredients and 10 steps. Here is how you achieve that.
Ingredients of Salsa chicken enchiladas my way
You need 1/2 cup of buttermilk hidden valley ranch dressing.
It's 1/4 cup of sour cream.
It's 1 1/2 cups of mild salsa or use mild verda salsa.
It's 1 (4 oz) of can diced green chiles.
Prepare 4 cups of taco cheese blend.
Prepare 1 pack of McCormick fajita seasoning mix.
It's of Vegetable or olive oil.
It's 4 of chicken breasts.
It's 3 cups of mild verda salsa.
You need 1/2 cup of corn (optional).
Prepare 1/2 cup of black beans rinsed and drained (optional).
Prepare 14 of mission flour tortillas soft taco size.
Prepare of Sour cream or ranch for topping.
You need of Mild salsa for topping.
This recipe is so quick and easy, and I always receive a ton of compliments. It quickly becomes a favorite of friends whenever I share the recipe. These chicken enchiladas are terrific for potlucks, weeknight meals, or serving a crowd. If you're into make-ahead meals, this recipe can be frozen, too.
Salsa chicken enchiladas my way step by step
Pre heat oven to 375 degrees.
Coat chicken in a little oil and coat in fajita seasoning and bake or air fry till done and dice up.
Heat and lightly brown each tortilla in a dry hot skillet for 10 to 15 seconds on each side and stack and wrap up in foil.
Spray two 13×9 inch baking dishes with cooking oil and add 1/2 cup salsa verda to the bottom of eash dish.
Mix 1/2 cup ranch dressing, 1/4 cup sour cream, 1 1/2 cups salsa and green chiles. Then.
Mix in chicken and 1 cup of cheese. At this time if you want add in black beans and corn.
Fill tortillas with filling about 1/3 cup filling and roll up and.
Place seem side down and pour on 1 cup of salsa verda on top and spread out and sprinkle on 1 1/2 cups of cheese on each dish.
Bake uncovered for 35 minutes.
Top with sour cream or ranch and a little salsa if wanted and enjoy !.
Hold one tortilla in your hand. Spoon the chicken mixture down the center of the tortilla. Perfect on salads, bowls, tacos, burritos and more. We LOVE making this salsa chicken because it's SO easy to make and you can use it for SO many different recipes! We use it for rice bowls, salads.